Delivering materials and safety to meet your needs
In collaboration with many manufacturers, we provide a whole range of materials involved in lashing on container ships and ro-ro ships as well as coating materials, cleaning implements, and special cleaning agents for cargo holds of bulk carriers at customers' requests to support cargo handling.
PTCT Lashing Materials
We deal with a wide range of merchandise, not limited to lashing gear, including 2 ton and 6 ton lashing belts, chains, stands and dunnage. Gear essential for smooth loading and unloading operations are also part of our lineup, for example, soft cones , traffic sign and flashlights.
We also provide secondhand lashing belts at reasonable prices, which we obtain when customers replace a total set of gear with a new one, to be used for one way transport of used cars for export. The secondhand devices used instead of new wires and other gear contribute to customers' operational cost reduction effort.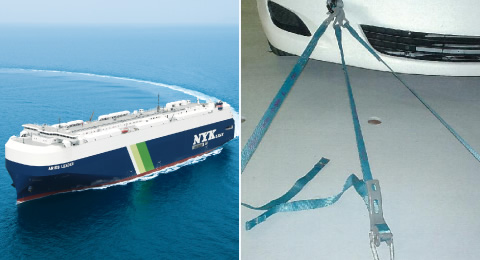 Container Lashing Materials
We provide all kinds of gear related to container lashing, including metallic gear fixed to the ship.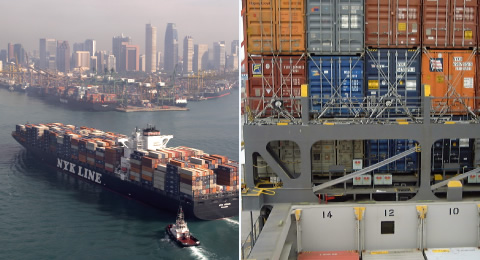 Cargo Hold Coatings
We supply products of leading domestic paint makers such as Chugoku Marine Paints, Nippon Paint and NKM Coatings as well as overseas makers like Hempel.
We cater to various requests of customers on a global basis, ranging from delivery dates and prices to merchandise
Manufacturers of Container Gears Available

| | | |
| --- | --- | --- |
| Koei Kinzoku Kogyo | Taiyo Seiki Kogyo | MacGregor Group AB |
| | |
| --- | --- |
| German Lashing Robert Bock GmbH | SEC - Ship's Equipment Centre Bremen GmbH |
PTCT Lashing Gears Available

< Rexxam Co.,LTD.(CLASPER)>
Clasper for 2tons
Clasper for 6tons
Clasper for 10tons
HCC for 16tons
< ASHIMORI INDUDTRY CO.,LTD.(TIGHTNER)>
Tightner for 2tons
Tightner for 6tons
Tightner for 10tons
Inquiries through the website