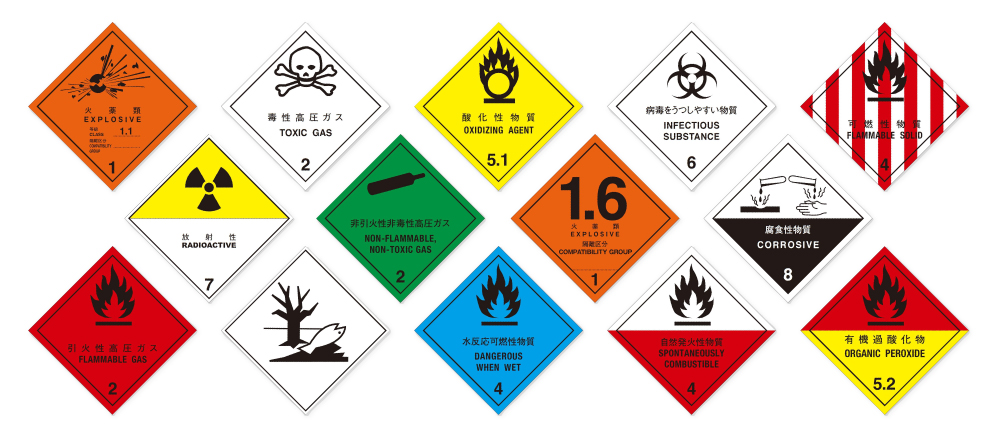 International Maritime Dangerous Good Code (IMDG Code) established by the International Maritime Organization (IMO) stipulates international rules for the safe transportation of dangerous materials by vessels on water. In accordance with the code, Japan has enacted Regulations for the Carriage and Storage of Dangerous Goods by Ship. When transporting dangerous materials by ship, we are obliged to place labels on the objects and containers on board to show their hazard classes.
IMO Classes & Labels
Dangerous substances fall into nine categories – explosives, high-pressure gas, flammable liquids, flammable solids, oxidizing substances, toxic substances, radioactive substances, corrosive substances, and hazardous substances. Different labels are set for each category.
We receive orders for custom-made labels as well as paid service to print UN numbers on label from one single label to as many as needed
1.1Explosive

1.2Explosive

1.3Explosive

1.4Explosive

1.5Explosive

1.6Explosive

Sub1Explosive subsidiary risk

2.1Flammable gas

2.2Non-flammable,
Non-toxic gas

2.3Toxic gas

3Flammable liquid

4.1Flammable solid

4.2Spontaneously Combustible

4.3Dangerous when wet

5.1Oxidizing agent

5.2Organic peroxide

6.1Toxic

6.2Infectious substance

7 (For object Only) Radioactive I

7 (For object Only) RadioactiveⅡ

7 (For object Only) RadioactiveⅢ

7 (For object Only) Fissile

7Radioactive

8Corrosive

9Miscellaneous dangerous substances and articles

9Miscellaneous dangerous substances and articles (Lithium battery)

- Orange panel

- Mark for transport at elevated temperature

- Orientation arrows

- Marking for packages containing limited quantities

- Excepted quantities mark

- Fumigation warning mark

-Warning mark

MPMarine pollutant mark

-OVERPACK

LBLithium battery mark

-SET (PRODUCTS + UN)

CLASS 2~9 Placards for subsidiary risk
Inquiries through the website