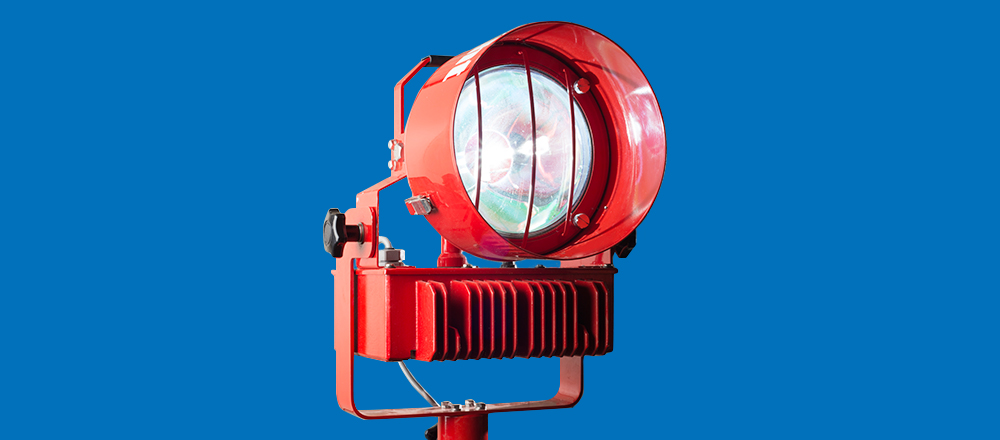 According to a report by the International Maritime Bureau Piracy Reporting Centre (IBM-PRC), the number of pirate attacks has been sharply increasing recent years. 70% of attacks happen in Southeast Asia and Southwest Asia, highlighting the region as the most susceptible to piracy.
The geographical condition in which vessels have to slow their speed at the Malacca straits and the difficulty of security operations in the areas where maritime borders of piracy-prone countries are congested are considered to be the reasons.
Jacklight's very strong light beam works as a stern warning to the pirates and also helps you with early detection of pirates.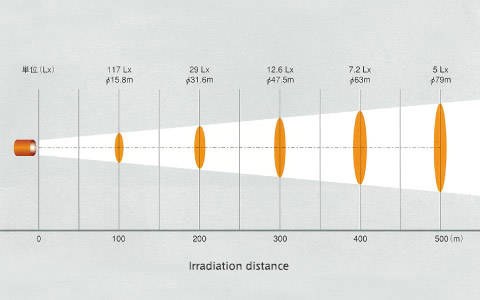 Specifications
Jacklight is a searchlight whose light source is a short arc metal halide lamp. Its optical characteristics are close to that of a solar beam. Featuring superior visibility, it powerfully illuminates work sites and enables search for a target object.
Recognize an unidentified vessel 500m away
Powerful threatening effect by using the high-intensity metal halide lamp
Compact and lightweight model makes speedy operation possible
Dedicated fixing base makes installation easy
Utility model registration has been granted
Key Features and Performances
| | |
| --- | --- |
| Model | MPW-250ABS-GH |
| Rating | Constant |
| Class of protection | IPX5 |
| Operational atmosphere | -10 to +40℃ ( not to be freezing ) |
| Ballast | non-exposed |
| | |
| --- | --- |
| Input power | AC100V±10%, 1φ, 50/60Hz Rating 5A |
| Lamp power | 250W |
| Luminosity | 1,300,0000cd or more |
| Elevation (1/10) | approx. 9 degree |
| Weight | Searchlight approx. 11kg / Fixing base approx. 2kg |
Inquiries through the website