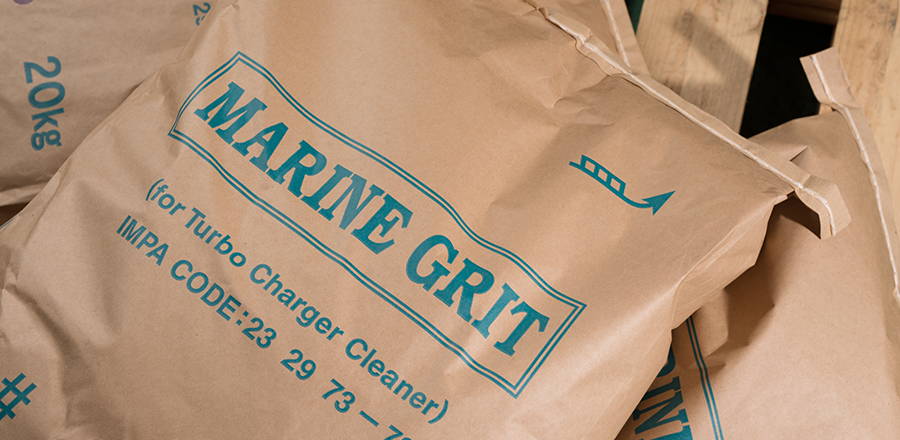 In the areas exposed to combustion gas as in turbochargers, carbon particles easily accumulate. If they are left, they may cause unstable rotation, destruction of the turbocharger, and stop operation of the main engine. Carbon particles stick inside of the turbine, but Marine Grit is capable of removing them easily.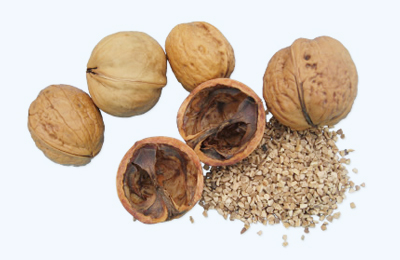 Marine grid is what was ground walnut shells.
Key Features and Performances
■High performance
Soft enough not to scratch or oxidize the turbocharger material, able to efficiently remove carbon scale.
■Environmentally safe
Even if burned, it does not pollute the air; if buried, it returns to the soil - a perfect ecological product friendly both to the environment and people.
■Economical
More affordable and economical than other existing alternatives such as old rice.
■Handling methods
Easy to use. Just inject it from a hopper that is attached to the turbocharger.
Specifications
Marine Grit, highly appreciated by ship owners at home and abroad, is introduced in our general catalogue for marine supplies (IMPA catalogue) as a regular product.
There are six different sizes available to choose from as shown in the table below. Please use it according to your ship's specifications.
(The most popular choice is nominal grain #8, or IMPA code 232978.)
Nominal grain
Main diameters
(μm)
IMPA code
♯8
2.830~2.000
232978
♯10
2.380~1.680
232977
♯12
2.000~1.410
232976
♯14
1.680~1.190
232975
♯16
1.410~1.000
232974
♯20
1.190~840
232973
Other Features
Use of Marine Grit is not limited to its use as a cleaning agent in the maritime industry. It is exported to overseas thermal power plans, manufacturers, and trading companies. It is also used as an abrasive material.
Cleaning agent

(Cleaning of turbochargers for ships and aircraft and turbines of thermal power plants)

Abrasive material

(Post-molding deburring of thermosetting resin products, semi-conductors, and electronic parts)
(Barrel finishing of precious metals and glasses frames)

Other use

(Manufacturing grinding stones, non-slip tires, non-slip flooring materials, and cosmetics)
Inquiries through the website